 
BMW 3 Series E90 Passenger Door Handle Cover Light Grey (RIGHT)
Fits BMW 3 Series E9x - RIGHT Passenger Door Handle Light Grey Leather Cover
Fits: inner RIGHT front or rear passenger door handles in BMW 3 Series E90 E91 E92 E93 Sedan, Touring, Coupe or Convertible.
BMW 3 Series E9x Inner Handle Light Grey Leather Cover with White Stitch for RIGHT side doors.
This Light Grey leather cover for BMW 3 Series E9x (2005-2013) is made of 100% real natural, soft leather, can be ordered with either White or Grey stitch colour.
It will fit on both left and right hand drive cars, on RIGH hand side, front or rear doors. It is made for BMW E9x models such as: 
316i, 318i, 320i, 325i, 328i, 330i, 335i, M3, 316d, 318d, 320d, 325d, 330d and 335d.
Comes with the needle, lacing cord, and double-sided sticky tape for easy installation (Could be installed without the sticky tape).
Door handle cover will fit on Front & Rear RIGHT side inner door pull handle.
Installation instruction
You might also like
Fits BMW 3 Series E90 E91 E92 E93 - RIGHT Passenger Door Handle Black Leather Cover M Sport Stitch
Fits: inside RIGHT passenger front or rear door handle of BMW 3 Series E90/ E91/ E92/ E93.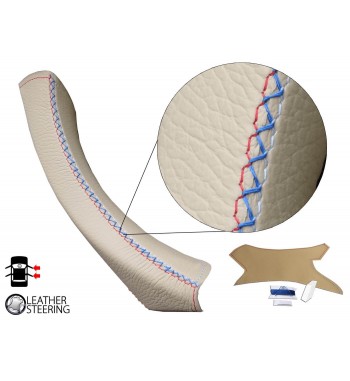 Dakota Beige Leather Cover for passenger door handle fits BMW 3 Series E9x 
Fits: passenger door handle BMW 3 Series E90 E91 E92 E93 Sedan, Touring, Coupe, Convertible & M3.